Fathers' Rights Lawyer in Westchester County
Feeling Overwhelmed by a System that Favors Mothers?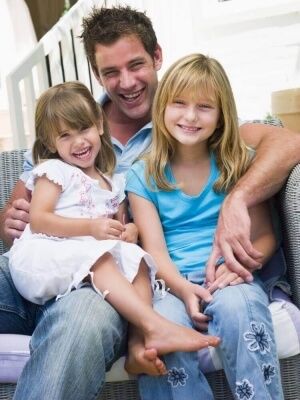 At Friedman & Friedman PLLC, Attorneys at Law, we know the difficulties that fathers face as they try to maintain connections with their children in the wake of divorce or in the case of a paternity dispute. Attorney Andrea Friedman is a distinguished attorney in the field of matrimonial and family law and she is prepared to help you fight for your rights as a father.
Need a Lawyer to Protect Your Father's Rights? Contact Us!
Protect Your Father's Rights to Be With Your Children
Technically, institutionalized maternal preference in child custody cases has not been in practice in New York for decades; however, it is still a matter of fact that courts tend to favor mothers over fathers when making these determinations.
Mothers' rights vs. fathers' rights is an ongoing issue. That is why, as a father, you need a skilled Westchester County fathers' rights lawyer on your side—to make sure that your parental rights are protected and that you are given the same consideration as the children's mother during divorce proceedings.
Friedman & Friedman PLLC, Attorneys at Law can help protect your fathers' rights to:
Acknowledgment of Paternity in NY
It may also be important for you to legally establish paternity with an Acknowledgment of Paternity form. This is particularly true if you are not married to your children's mother, nor were you at the time of their conception or birth. Failure to establish paternity could lead to you having no legal rights as a parent regarding your own children.
Call (914) 873-4410 for Dedicated Legal Help! Our Lawyers for Dads Help Fathers in Westchester County, Nassau County & Suffolk County, NY.
Unmarried Fathers & Birth Certificate Issues
Do unmarried fathers still have rights? If a father's name isn't on the birth certificate, can he still fight for custody or visitation? The answer is "yes," but only with the help of a skilled fathers' rights attorney.
In order to fight for your rights as an unmarried father, or if your name is not on the birth certificate, then you will need to establish paternity. This can be complicated if the mother disputes your fatherhood, so make sure to speak with a lawyer from Friedman & Friedman PLLC to see if you are able to fight for your rights as a father.
Fathers' Rights Association of New York State
The attorneys at Friedman & Friedman PLLC serve as General Counsel for the Fathers' Rights Association of New York State, a non-profit organization committed to protecting the rights of fathers during a divorce or child custody case, as well as promoting the strong bond between men and their children.
Call Us Today -
(914) 873-4410
While the system can be prejudiced against fathers seeking custody of their children or visitation rights, your situation is far from hopeless. A skilled family lawyer knows exactly what your rights are and how to protect them. You deserve to play a role in the lives of your sons and daughters - we can help to make sure that you do. Our aim is to help parents secure the legal rights they need to be active participants in their children's lives, and to maintain crucial relationships with them to the extent that is possible and in the child's best interest.
Read Actual Client Testimonials from Thankful Fathers:
"As a single father going through a divorce, Ms. Friedman met my needs with understanding and knowledge."
Andrea Friedman was an attorney in my custody trial for my then 6 month old son. As a single father going through a divorce, Ms. Friedman met my needs with understanding and knowledge to aid me in winning custody. She, along with her legal team, drafted all of my court documents with excellence and honesty. I was always very impressed with how she took my information from me, and translated it to the courts, so that they were able to comprehend the details pertaining to my situation. Due to her attention to detail, and expertise, I was awarded sole custody. Ms. Friedman saw my case all the way through the appeal. I can now say my 4 1/2 year old son is living with me and thriving in his happy life. And I have Andrea Friedman to thank for that.
---
"Thanks for helping me both emotionally and legally."
5 / 5 Stars
Sari and Andrea were more than just attorneys to me. My wife blindsided me when she filed for divorce. I was a faithful husband and gave her a fantastic lifestyle but, when there was a chance that we would have to temporarily downsize, she filed for divorce saying: "If you would have cheated we could have worked it out".

There is no divorce in my family although her family is like a revolving door with divorce being more the norm. I was an emotional wreck just thinking of the devastating effects that divorce could have on our wonderful, innocent children. I did not want my children to grow up without their father.

Thanks to Sari and Andrea for helping me both emotionally and legally. They not only guided me to reaching a financial settlement of divorce but also made sure that my children will always have me in their lives. If you are in the unfortunate position of needing a divorce lawyer then choose Friedman and Friedman.
Samuel G.
---
"You fought like a true warrior for my rights!"
5 / 5 Stars
Although I am still in a state of shock, I feel I have to thank you once again. When I came to your office my spirit, my will and my heart where totally broken. You changed all of that. For that, I thank you.

My nightmare began almost a decade ago when my now ex-wife took my little toddler from the babysitter and disappeared. My ex was a highly educated woman who was a master at "gaming" the system. At one point my ex had even fled the country with my child. I interviewed many attorneys and tried a few. But none had the mindset of pursuing my rights as a father. Their goal was simply to mitigate the inevitable damage that a father/man can incur in the court system. As a result I had no contact with my child for over eight years.

You fought like a true warrior for my rights! Now I have my freedom, sole legal and physical custody of my child and my life has never been so good. As a renewed family we are going to have some ups and downs to negotiate and most likely some growing pains. But as long as we're together I know we'll be alright.

I would and will highly recommend you and your firm to every man I come into contact with that is facing what often turns out to be one of life's most traumatic experiences. I would further caution any man facing this type of life altering event – given the serious nature of the outcome, this is not the time to be penny wise and pound foolish!

Once again I would like to thank you most of all. But I would also like to thank your thoughtful, caring and courteous staff for helping to give me my life back.
R.B.