Fathers' Rights Lawyer in Westchester County
Feeling Overwhelmed by a System that Favors Mothers?
At Friedman & Friedman PLLC, Attorneys at Law, we know the difficulties that fathers face as they try to maintain connections with their children in the wake of divorce or in the case of a paternity dispute. Attorney Andrea Friedman is a distinguished attorney in the field of matrimonial and family law and she is prepared to help you fight for your fathers' rights in NY.
Need to Fight for Your Father's Rights? Contact a Fathers' Rights Attorney Now!
Fathers' Rights Help – Protect Your Right to Be With Your Children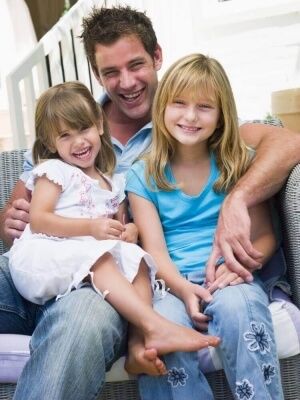 Technically, institutionalized maternal preference in child custody cases has not been in practice in New York for decades; however, it is still a matter of fact that courts tend to favor mothers over fathers when making these determinations.
Mothers' rights vs. fathers' rights is an ongoing issue. That is why, as a father, you need a skilled Westchester County fathers' rights lawyer on your side—to make sure that your fathers' rights are protected and that you are given the same consideration as the children's mother during divorce proceedings.
A fathers' rights lawyer at Friedman & Friedman PLLC, Attorneys at Law can help protect your fathers' rights to:
Acknowledgment of Paternity in NY
It may also be important for you to legally establish paternity with an Acknowledgment of Paternity form. This is particularly true if you are not married to your children's mother, nor were you at the time of their conception or birth. Failure to establish paternity could lead to you having no legal rights as a parent regarding your own children.
Call (914) 873-4410 for Dedicated Legal Help! Our Lawyers for Dads Help Fathers in Westchester County, Nassau County & Suffolk County, NY.
Unmarried Fathers' Rights in NY
Do unmarried fathers still have rights? What are a father's rights if he's not on the birth certificate? If a father's name isn't on the birth certificate, can he still fight for custody or visitation? The answer to all of these questions is "yes," but only with the help of a skilled fathers' rights attorney in Westchester County.
In order to fight for your rights as an unmarried father, or if your name is not on the birth certificate, you will need to establish paternity. This can be complicated if the mother disputes your fatherhood, so make sure to speak with Friedman & Friedman PLLC to get fathers' rights help from an experienced lawyer.
Fathers' Rights Association of New York State
The fathers' rights lawyers at Friedman & Friedman PLLC serve as General Counsel for the Fathers' Rights Association of New York State, a non-profit organization committed to protecting the rights of fathers during a divorce or child custody case, as well as promoting the strong bond between men and their children.
Call Us Today -
(914) 873-4410
While the system can be prejudiced against fathers seeking custody of their children or visitation rights, your situation is far from hopeless. A skilled family lawyer knows exactly what your rights are and how to protect them. You deserve to play a role in the lives of your sons and daughters - we can help to make sure that you do. Our aim is to help parents secure the legal rights they need to be active participants in their children's lives, and to maintain crucial relationships with them to the extent that is possible and in the child's best interest.
Don't wait until you've lost your rights as a dad. Contact a fathers' rights attorney near you and take a step toward a secure future with your children.