Attorney Andrea Friedman of Friedman & Friedman PLLC, Attorneys at Law on Long Island has built a reputation for greatness. Since the beginning of her legal career, she has been dedicated to delivering nothing but the best divorce and family law services to clients in need. But she is not only an attorney with a great track record of success, she is also an incredible businesswoman, firm partner, and mentor. Through her insight, intellect, and guidance, Friedman & Friedman has continued to be a prominent family law firm for New Yorkers and a strong example of how a firm should operate for those new to the legal profession.
In recognition of her outstanding professional achievements she was able to achieve with her mentee, the Moxxie Network gave its prestigious Purple Pump Award to Attorney Andrea Friedman on October 26th, 2017 during the Emerald Summit meeting and forum. From everyone at Friedman & Friedman, Attorneys at Law, we would like to extend heartfelt thanks to the Moxxie Network for this great honor. Andrea's mentee, of course, deserves a round of applause for working so well with Andrea and being a shining example of an empowered professional woman. We also need to show appreciation for our clients, who have believed in us and turned to Andrea for legal assistance again and again throughout the years.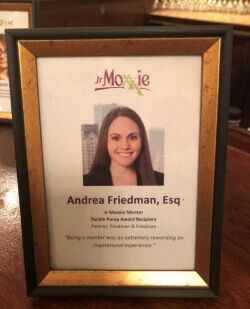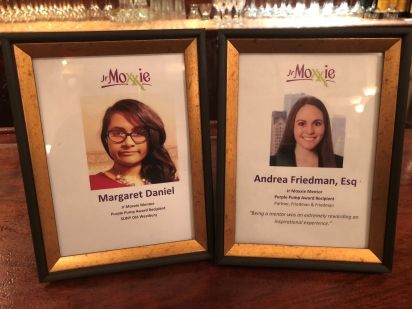 About the Moxxie Network
The Moxxie Network believes that women in professional businesses and corporate environments can only benefit from working together. The organization encourages and fosters mutually-advantageous relationships among professional women, provides the resources to come together for forums and meetups, and generally promotes the exchange of ideas and experiences in order to better the world for women. In particular, it helps establish mentoring programs between professionals and rewards them for achieving monumental success together, as can be seen with the Purple Pump Awards.
While it is true that many Moxxie Network members do come from corporate and executive fields, the organization is proudly not industry exclusive. It boasts that "sophisticated women from any industry" can become a Moxxie Network member.
Would you like to know more about Moxxie Network, its goals, and its Purple Pump Awards? Click here to visit the organization's official website. Want to know more about the career and practice of Long Island Divorce Attorney Andrea Friedman? Or, do you need the assistance of Friedman & Friedman for a family law dispute of your own? Feel free to call (914) 873-4410 and ask for an initial case evaluation with our team.